Protect Your Data
And Your Peace of Mind
When it comes to cybersecurity, the landscape is full of single-solution providers, making it easy for unexpected cyberthreats to sneak through the cracks. At Fortra, it is creating a stronger, simpler strategy for protection. One that increases customers' security maturity while decreasing the operational burden that comes with it. This is all possible thanks to it's best-in-class portfolio and deep bench of expert problem solvers.
Data Security Solution
Digital Guardian
Protect sensitive data on all your endpoints
Digital Guardian Data Loss Prevention:
Protect Sensitive Data on ALL Your Endpoints
The Digital Guardian Data Protection Platform, powered by AWS, performs on traditional endpoints, across the corporate network, and on cloud applications, making it easier to see, understand, and protect your sensitive data.

Cloud-delivery simplifies deployment, cross-platform coverage eliminates gaps, and flexible controls stop the riskiest behavior without impacting productivity. Digital Guardian gives you the deployment flexibility to match your enterprise needs, whether SaaS, fully managed, or on-premises.
Cloud-Delivered


Powered by AWS, Digital Guardian delivers simplified deployment, low overhead, and elastic scalability for increased return on investment

Cross Platform


Coverage for your Windows, macOS, or Linux operations systems and all your applications, both browser based and native

Flexible Controls


Fine-grained controls, ranging from log & monitor to automated blocking, help protect data before it's lost

Deepest Visibility


See everything that happens to organization's sensitive data

No Policy, No Problem


"Risk discovery" approach enables organization to see where sensitive data is located, how it flows, and where it is out at risk - all without policies.
Titus
The foundation of data security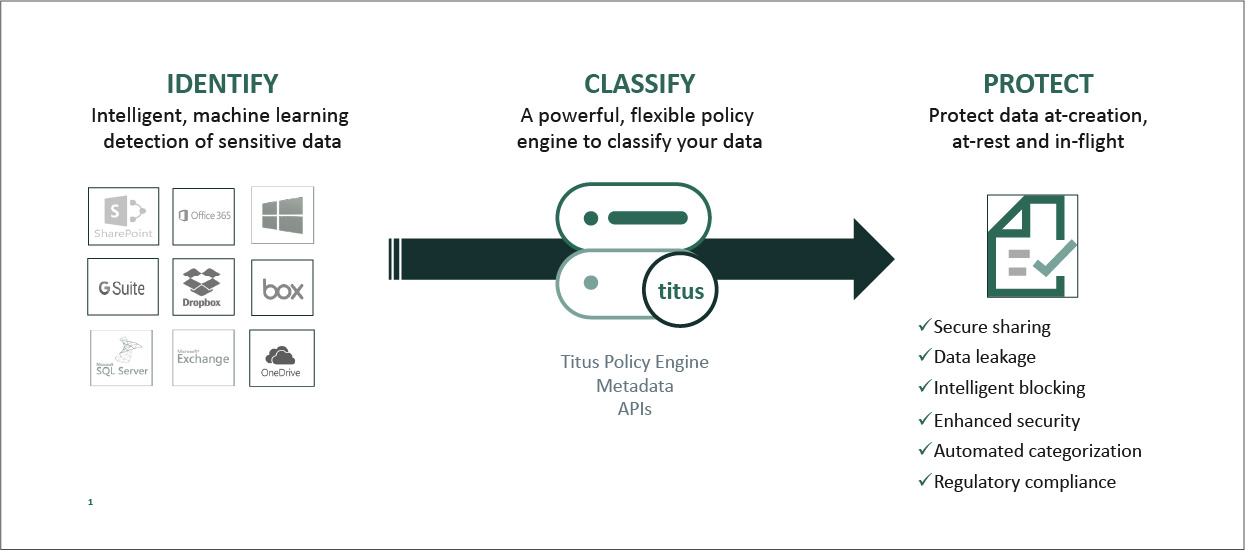 Titus data classification enables organizations to truly understand what kind of data they possess, the value of that data, and how best to classify files in order to mitigate exposure to risk. With Titus, you can clearly and accurately classify emails, spreadsheets, presentations, and other file types using user selected, system-suggested, or automatically applied classification settings that are based on your unique data security policies. It is designed to empower employees to work confidently and productively, with the knowledge that their emails, documents, and sensitive information are all protected.
Titus Classification Suite


Add rich context to on-pem and cloud data with data classification

Titus Illuminate


Scan and analyze unstructured data at rest and apply appropriate identification attributes

Titus Identifiers for Privacy


Detect personally identifiable information (PII) at creation in email and files. Powered by Machine Learning

Titus Encryption


Combine data classification and encryption into a single flexible data proetction solution
Vera
Powerful data protection, anywhere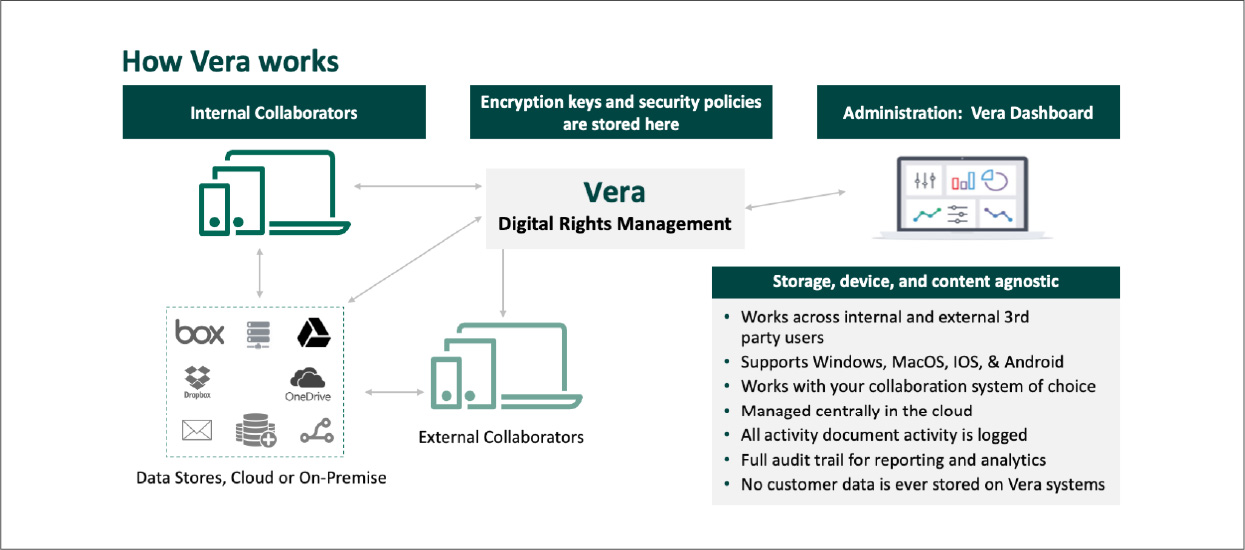 Vera makes it easy to securely share files externally with third parties, providing you control over file access and protection wherever data travels. Secure, track, audit, and revoke access to your crown jewels, including sensitive financial and legal data, so that your most sensitive content stays protected. With robust policy enforcement, strong encryption, and strict access controls, Vera's data-centric security solution enables teams to collaborate freely while ensuring the highest levels of security, visibility, and control.
SECURE


Automatically secure your sensitive data when it's shared internally and externally.

TRACK


Track every time data is accessed throughout its lifecycle.

AUDIT


Mitigate compliance risk with full audit trail.

REVOKE


Revoke access to sensitive data and files shared with departing employees and 3rd party providers.
Agari
Robust DMARC Authentication and Monitoring Solution

It takes years to build trusted relationships with your customers - but cybercriminals can abuse that trust to trick your customers into opening their malicious emails in a matter of minutes.

DMARC is an essential email authentication protocol that enables administrators to prevent hackers from hijacking your domains for email spoofing, executive impersonation, and spear phishing. But email is complicated and getting email authentication correct is criticial, so that only the spoofing is blocked.

Agari Brand Protection simplifies DMARC management at every level, helping organizations to protect their customers and partners from email attacks that hijack their brand through:
Authentication


Provides insight into ALL legitimate email sources for full authentication.

Conformance


Ensures all third-party senders conform to your email standards.

Reporting & Analytics


Aggregates DMARC data by leveraging AI and data science.
Infrastructure Protection Solution
Digital Defense
Vulnerability Management and Penetration Testing Services
Originally developed as a Software as a Service (SaaS) security platform, Frontline.Cloud provides robust yet easy to deploy security solutions that deliver unparalleled results. Frontline.Cloud lifts the administrative burden associated with on-prem and hybrid security solutions while offering the best discovery and analysis technology in the industry. A variety of options are available:
Frontline VM™


Vulnerability Management

Frontline WAS™


Web Application Scanning

Frontline ATS™


Active Threat Sweep

Frontline Pen Test™


Online Reporting
Core Impact
Pen Testing Software
Core Impact is an easy-to-use penetration testing tool with commercially developed and tested exploits that enable security team to exploit security weaknesses, increase productivity, and improve efficiencies.
| | |
| --- | --- |
| • | Provides visibility into the effectiveness of organization's defenses |
| • | Reveals where most pressing risks exist |
| • | Utilizes a stable, up-to-date library of commercia-grade exploits and real-world testing capabilities |
| • | Replicates attacks across network infrastructure, endpoints, web, and applications to reveal exploited vulnerabilities |
Cobalt Strike
Adversary Simulation & Red Teaming
Cobalt Strike is a robust threat emulation tool that allows security professionals and Red Teams to replicate advanced attacks and put incident response strategy to the test to enhance security.
| | |
| --- | --- |
| • | Enables security teams to replicate the same tactics and techniques of today's cyber criminals |
| • | Provides a flexible framework designed to be extended and customized by the user community |
| • | Fosters Red Team collaboration by sharing data and allowing communication in real-time |
| • | Generates reports to provide a complete picture of the engagement |
Resources